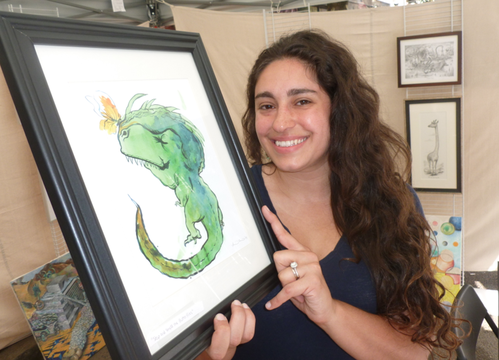 For those of you who don't know, I moved to CT in March of this year. It's been a hectic year settling in and adjusting to living away from NYC. Luckily, I have made some friends with a nearby gallery called Seven Arts Gallery. The owner, Paul, and his wife Anne, are such wonderful people. Recently, Paul offered to view my portfolio and liked my new series, "The Fire In My Belly". He offered me a spot in his booth for the SONO (South Norwalk) Arts Celebration this past weekend.
It was fantastic to be outside all weekend, hanging with Paul and Anne, meeting some great local people in South Norwalk, and talking about my artwork. I even made some sales and got wonderful feedback on my work!  The cherry on the cake was at the very end of the day on Sunday, Frank MacEachern from the Stamford Daily Voice stopped by the Seven Arts Gallery booth and interviewed myself and Paul! You can check out the article here:
http://stamford.dailyvoice.com/neighbors/sono-arts-celebration-packs-crowds#comment-90197
This past weekend has left me inspired and driven to keep making connections both in CT and NYC, and of course, keep going with my series!